Raymond Chow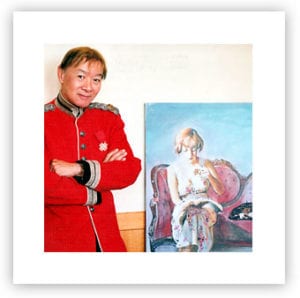 Raymond Chow is an internationally renowned artist based in Vancouver, Canada.  He won his early recognition in his teenage years when many art dealers would come knocking on his parent's door with cash in hand, eager to buy a Raymond Chow drawing.
In the mid-1950's, Raymond began his art career drawing black ink drawings of Vancouver's buildings. His drawings sold for around $50 in the 1950's, artwork created by his favorite 25 cent ball point pen.
Throughout his career, Raymond has met many public figureheads who have commissioned him for paintings.  Some have included Clint Eastwood, Sunny and Cher, and Princess Elizabeth of Yugoslavia.
Other collector's of Raymond Chow's paintings have included Prime Minister Indira Gandhi, Paul Anka, Raymond Burr, Gordon Lightfoot, and David Lam.  His works are in the collections of Touche Ross, Scott Paper, the Variety Club, and MacMillan Bloedel, to name a few.
Raymond Chow has also exhibited with some of the most prominent contemporary artists in the world including AJ Casson, Andrew Wyeth, and many more.  He has a lengthy art career of over 50 years where his artwork has gone from art galleries across Canada to as far as the Royal Palace of India in Rajasthan.  Now, he enjoys his time traveling around British Columbia and supporting the Arts in Vancouver.
Profile
| | |
| --- | --- |
| Raymond Chow | Painter, Pianist |
| Academia | University of British Columbia, Bachelor of Fine Arts |
| | Toronto Royal Conservatory of Music, Associateship of the Royal Conservatory of Toronto |
Collectors
| | | |
| --- | --- | --- |
| Princess Elizabeth of Yugoslavia | Deputy Premier Grace McCarthy, British Columbia | Prime Minister Indira Gandhi, India |
| Sir Roger George Moore | Sunny & Cher | Samantha Eggar |
| Paul Anka | Raymond Burr | Gordon Lightfoot |
| Belzberg Collection | Ontario Historic Collection | Robert Lee |
| Bank of Hong Kong | Toronto Library | MacMillan Bloedel |
| Variety Club | Scott Paper | Touche Ross |
| Mayor of Beverly Hills Robert Tenenbaum | MLA Stephen Rogers | Clint Eastwood |
| Susan Matheson | Carol Taylor | Doreen Braveram |
| Fran Belzberg | Paul Anka | Noel Harrison |
Exhibitions
| | |
| --- | --- |
| 2017 | Capulet Art Gallery, Richmond, BC |
| | Art 1274 Hollis, Halifax, NS |
| 2016 | Capulet Art Gallery, Richmond, BC |
| 2015 | Capulet Art Gallery, Richmond, BC |
| 2014 | Capulet Art Gallery, Richmond BC |
| | Archer & Horseman Gallery, Vancouver BC |
| 2013 | Fragrant Wood Gallery, Vancouver BC |
| 2010 | Hambleton Galleries, Kelowna, BC |
| | Candler Art Gallery, Camrose, AB |
| 2008 | Asai's Art Gallery, Korea and Japan |
| 2005 | Raymond Chow Art Warehouse, Richmond, BC |
| 2002 | Finished "White Gown" Series of Paintings |
| 1999 | Finished "Karen" Series of Paintings |
| 1998 | Started Painters of Painter's Lodge, Campbell River, BC |
| | Exhibited at Museum & Library Complex in Vancouver Chinatown |
| 1997 | Worked with Vancouver Symphony Orchestra |
| 1996 | Exhibition of Drawings and Paintings at L'Alliance Francais de Vancouver |
| | Started "Karen" Series of Paintings |
| 1994 | Established Raymond Chow Art Gallery in Steveston, Richmond, BC |
| | Began "White Gown" Series of Paintings |
| 1992 | Opened Raymond Chow Art Warehouse, Richmond, BC |
| 1990 | Established Art Gallery in Richmond, B.C. |
| 1989 | Exhibited Along the West Coast of USA |
| | Fundraised for Richmond Hospital Foundation |
| 1987 | Created First CD of 29 Original Pieces Released by Mushroom Studios |
| 1985 | Worked with Political Leaders to Fundraise for Canadian Paraplegic Association |
| | Played Piano at Cecil Green Alumni Association for UBC |
| 1983 | Designed Vancouver Symphony Show House Cover |
| | Painted "Beautiful People of Vancouver" Series |
| 1978 | Designed Captain Cook Coins, Canada |
| | Jack Hambleton Gallery, Kelowna, BC |
| 1977 | Art Emporium, Vancouver, BC (Exhibited with Andrew Wyeth) |
| 1976 | Hycroft Manor, Vancouver, BC |
| 1974 | Peter Ohler Gallery, Richmond, BC |
| 1973 | Exposition Gallery, Vancouver, BC |
| | Gallery 1661, Halifax |
| | White Whale Gallery, Gig Harbour |
| | Leafhill Gallery, Victoria |
| | Raymond Chow Gallery, Vancouver |
| | Royal Palace of India, Rajasthan |
| | Jack Hambleton Gallery, Kelowna |
| 1972 | Gallerie Fore, Winnipeg |
| 1971 | Exposition Gallery, Vancouver |
| | Campden Hill Club, London |
| | Canada House Gallery, London |
| 1970 | Vancouver Historic Society, Victoria |
| | Thomas Beckett Gallery, Hamilton |
| | Alice Beck Gallery, Burington |
| | Varlow Gallery, San Francisco |
| | Shaw-Rimmington Gallery, Toronto |
| 1969 | Exposition Gallery, Vancouver |
| | Jack Hambleton Gallery, Kelowna |
| 1968 | Moos Galbria Gallery, Montreal |
| | McPherson Theatre, Montreal |
| 1967 | The Downstairs Gallery, Winnipeg |
| | Federation of Canadian Artist Gallery, Vancouver |
| | Eaton's Display of Historical Landmarks, Saanichton |
| | Dutch Gallery, Vancouver |
| | Sobot Gallery, Toronto |
| | Index of National Gallery of Canada, Ottawa |
Get In Touch
If you're looking to learn more about Raymond Chow or inquire about his artwork, let us know and we'll be more than happy to help.  You can reach us at 604-370-1728 or via email at mailto: info@capuletart.com