About Us
Capulet Art is a bohemian-style art gallery and framing shop that started in 2006. We focus on showcasing talented hidden artwork to the public by making art accessible through art exhibitions and live art performances throughout the city.
Through this, we provide art rentals and leasing from abstract and figurative artists in Vancouver, BC. Our focus is on renting cleared artwork to motion picture companies for their film productions at competitive rates. Another focus is on selling, renting and leasing artwork to businesses. Companies benefit from renting and leasing artwork because it can be deducted as a business expense while also providing a fresh and new feel to the work space. Businesses also benefit from purchasing original artwork over $1000 CAD because they can depreciate it over 5 years at 20% a year, similar to depreciating office furniture.
On the framing side, we provide affordable picture framing to the public. Our goal is to help promote the Arts, and so, we believe that if more artwork is shown on walls, the better the industry will be. However, with expensive picture framing around, this can make that difficult, so, we deliberately make our framing prices affordable with the hopes that more artwork will be shown on walls.
Our gallery name is based off of Shakespeare's Romeo & Juliet, namely, Juliet Capulet. We want to focus on the beauty of the feminine self while showcasing works of art meant to be shown to the public, rather than, being hidden away in artist studios.
Our Team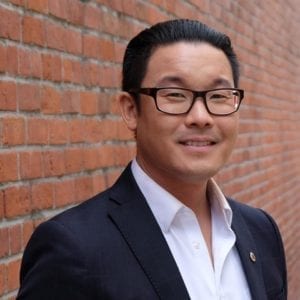 Kevan Seng, Owner
Kevan Seng started Capulet Art in 2006 as an artist representation agency with the focus of showing the hidden gems of the art world to the public. He is also the co-founder of Golden Brush Art Events and is one of the producers of the "Battle of the Brush" live painting competition. Kevan focuses on promoting the works of Canadian artists including Raymond Chow, Norveau Morrisseau, and Jose Urbay specializing in artwork of abstract and figurative nature.
Seng met Raymond Chow, a long-time Vancouver artist icon, by chance at a bus stop in Richmond, BC in 2006. Two days later, they met, again, at Raymond's gallery warehouse. Due to his awe and admiration for Chow's artwork, Seng decided to pursue a life in the Arts as an artist agent under Chow's training.
From there, Kevan created historic Chinatown calendars, art cards, and the Golden Brush Painting Competition, now called the "Battle of the Brush". Kevan is also the incoming president of the Vancouver Chinatown Lions Club and the current zone chairperson on Lions Club 19 A-1, overseeing 17 Lions Clubs in the Vancouver region. He spends most of his free time helping with Lions Club fundraisers and community service events in Vancouver.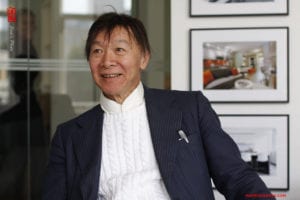 Raymond Chow, Artist/Mentor
Raymond Chow introduced the Arts to Kevan in 2006, and since then, they have formed a strong friendship and partnership where Raymond provides the artwork and Kevan markets and sells the artwork.
Raymond Chow is an internationally renowned artist based in Vancouver, Canada. He won his early recognition in his teenage years when many art dealers would come knocking on his parent's door with cash in hand, eager to buy a Raymond Chow drawing.
In the mid-1950's, Raymond began his art career drawing black ink drawings of Vancouver's buildings. His drawings sold for around $50 in the 1950's, artwork created by his favorite 25 cent ball point pen.
Throughout his career, Raymond has met many public figureheads who have commissioned him for paintings. Some include Clint Eastwood, Sunny and Cher, and Princess Elizabeth of Yugoslavia.
Other collector's include Prime Minister Indira Gandhi, Paul Anka, Raymond Burr, Gordon Lightfoot, and David Lam. His works are in the collections of Touche Ross, Scott Paper, the Variety Club, and MacMillan Bloedel, to name a few.
Raymond Chow exhibits with some of the most prominent contemporary artists in the world including AJ Casson, Andrew Wyeth, and many more. He has a lengthy art career of over 50 years where his artwork has gone from art galleries across Canada to as far as the Royal Palace of India in Rajasthan. Now, he enjoys his time traveling in Eastern Canada and supporting the Arts.
Our Gallery
It all started at a bus stop in 2006…
In 2006, Kevan Seng (24) met Raymond Chow (65) at a bus stop in Richmond, BC. That day, Kevan was on his way into Richmond with his father to pick up a van but due to the snowy weather condition, that did not happen. So, Kevan's father decided to visit a friend in the nearby area, instead. This did not seem too exciting for Kevan, so, he decided to venture off and take the bus home. As he was walking away, he noticed that he didn't have any bus change. Instead of walking back to his father to get some change he decided to just continue walking to find the nearest bus stop and to ask the first person he saw for change. As he neared the bus stop, he noticed a gentlemen wearing a hat, an interesting coat, and a pair of cowboy boots. This would be the person Kevan would ask for change for his $10 bill.
"Hello sir, would you happen to have change for a $10 bill?" asked Kevan.
The gentleman didn't have any extra change on him but suggested that Kevan cross the street to a corner store for some. After that, Kevan came back to the bus stop and thanked him. They exchanged business cards and this was when Kevan realized that this gentleman was famous. The business read "Raymond Chow", artist. They continued chatting while waiting for the bus, and when the bus came, they sat together and chatted some more, getting to know one another. Raymond invited Kevan to his gallery and Kevan said he would come by one of these days. After the bus, they parted ways and agreed to meet again at Raymond's gallery.
A couple days later
A couple days later, Raymond phoned Kevan to follow up on his invitation to visit his gallery. It was the first time Kevan had ever received an invitation to an art gallery, so, he accepted the invitation and visited Raymond's gallery the next day.
When Kevan left to visit Raymond's gallery, he had a bit of difficulty finding the place. It was located in the industrial part of Richmond, an area Kevan seldom traveled to. After circling around a couple times, Kevan found the gallery reading the bold sign "Raymond Chow Art Gallery". His first thoughts were, "Why is an art gallery in the middle of nowhere?".
It felt as though he had walked into a gold mine of hidden gems
Kevan parked his car and walked towards the door of the gallery. He buzzed the door and Raymond came down to open the door for Kevan. He greeted Kevan and welcomed him to his gallery. Now, the gallery is in the industrial part of Richmond, so after opening the door, there was a set up steps towards the second floor where the two walked up towards. This was when Kevan noticed a beautiful display of drawings and paintings on both sides of the wall up the stairs. It felt as though he had walked into a gold mine of hidden gems tucked away in the industrial part of Richmond. In fact, it took him about 10 minutes before reaching the top of the stairs because he was admiring all of the artwork on the way up. It was as if he was walking back in time with each additional step passing from one decade to the next. There were works from the '60s, 70's, and 80's, like a glimpse throughout time in Vancouver.
Once Kevan reached the top of the stairs, he noticed a stack of drawings on the floor. He walked towards the drawings and picked them up, finding that they were drawings of Vancouver Chinatown. Suddenly, he had the idea to create a calendar from the drawings. After speaking to Raymond about it, this would become his first project in the Arts.
Chinatown Calendar Drawings
The Chinatown Calendars took 6 months to create. Kevan asked his friend, Ed Lee, to help him with the computer design of the calendar and to also teach him how to use photoshop. This process took 4 months. After creating the first black and white copy of the calendar, Kevan visited the Chapters bookstore in Richmond with his friend, Christian Buschner. They asked for the manager of the store and showed the raw-looking calendar with a story of why the calendar would be a great sell that year.
This calendar was a 16-month 2007 calendar with drawings of buildings in Vancouver Chinatown. There were short stories and neat information about the buildings that were collected from old-timers in the area. It also happened to be the 100 year anniversary of Chinese Canadian Change, and because of that, the calendar was featured in the Ming Pao Newspaper and the Ricepaper Magazine. M-Channel News also sent a film crew to interview Raymond and Kevan about the calendar. Because of the whole centennial celebration, the calendars were sold throughout many Chapters bookstores throughout the lower mainland in Vancouver, BC.
M-Channel Calendar Interview

Artwork by Raymond Chow
Thanks for visiting our "About" page. If you'd like to come visit us, we're open Mondays through Saturdays from 12pm to 4pm and by appointment, as well. Please give us a call before, though, so we can prepare some drinks and snacks for you. – Sincerely, Kevan Seng