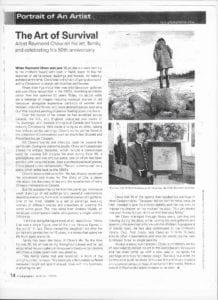 The Art of Survival
When Raymond Chow was just 17, art dealers were coming to his mother's house with cash in hand, eager to buy his sketches of old Vancouver buildings and houses. An aspiring architect at the time, Chow was in the habit of going downtown and to Chinatown to sketch old churches and houses. Those drawings made their way into Vancouver galleries and won Chow recognition in the 1960s, launching an artistic career that has spanned 50 years.
Today, his studio walls are a mélange of images including nostalgic scenes of old Vancouver alongside expressive paintings of women and children, colourful florals, and more abstract pieces such as a Gulf War inspired painting of pianos floating down the Seine.
Over the course of his career he has exhibited across Canada, the U.S., and England; published two books of his drawings; and traveled throughout Canada and beyond drawing Chinatowns. He's made a living as an artist, raising two children on his paintings.
Chow's works can be found in the collection of corporations such as MacMillan Bloedel and Price Waterhouse Coopers. Yet Chow's talents and interests reach far beyond the paintbrush. During my visit to his studio, Chow enthusiastically shared his antique treasures, which include a stereoscope used for viewing 3-D pictures he shot during Expo 86, a gramophone, and two antique autos, one of which had been painted with coloured birds.
Also, a professional-level pianist, Chow played a new composition, "Return to Vancouver," on a piano which dates back to the 1850's. Chow's latest ambition is film. He has already developed the storyboard and music for The Story of Cha, a clever tale about the discovery of tea and the experiences of early Chinese immigrants in Canada. But his success has come from his paintings: whimsical wash drawings of old buildings and peaceful watercolours depicting everything from cats to coastal scenes and gardens.
One of his most notable is a set of paintings featuring women of different shapes and characters all wearing the same white gown. The idea came from Andrew Wyeth, an American contemporary realist who painted a single woman 220 times. "l still like doing the figure most of all," says Chow. " Mona Lisa was a single figure, one of the most famous figures in the world". In fact, Chow named his daughter Lisa after the portrait and painted her for 15 years, in a series that spans her life from ages one to 16.
Family has been the focus of Chow's life. By the time he was 30, his art was selling throughout Canada and he had established his own gallery in Vancouver's Gastown, but divorce left Chow a single parent with new priorities. My family came first and foremost, in front of the almighty dollar," he says. "My business unfortunately suffered because I could not spend enough time with my business, marketing my art."
Chow lost 10 of the agents that handled his paintings in other Canadian cities. "Because I did not want to move, because I felt I needed to give my children stability and I did not want to impose my children on my mother" he says. "You can always lose your money but you don't want to lose your family." Yet Chow managed through those years, painting and drawing during the days, while running his own galleries and spending the evenings at home with his children.
A proponent of charity work, he has also contributed to the Children's Variety Club, Red Cross, and Canadian Arthritis Society, among other organizations and says he would like his next fundraiser to be for single parents. Always a savvy businessman, Chow is constantly on top of new ways to market his art to the world beyond Vancouver and has even come up with a new idea to transpose his paintings onto tiles for interior design. But as a true artist, he continues to push his limits. With new film and music projects and a cartoon series on Asian Americans in the works, the true extent of Raymond's talent remains to be seen.
The Art of Survival by Alexandra Chu
Ricepaper, 2005