Transform your workspace with our curated selection of contemporary artwork. From abstracts to landscapes, we make it easy to keep your environment fresh and inspiring. Ideal for businesses seeking a dynamic ambiance.
Preserve your cherished memories and art pieces with our expert framing services. Offering a fast turnaround and wholesale prices, we specialize in framing a wide range of items— from diplomas and sports memorabilia to original artworks.
Connect with talented artists to bring your vision to life or add to your existing collection. We offer a diverse range of pieces for sale and provide a seamless commissioning process. Perfect for collectors and businesses alike.
🎨 Dirk Marwig: The Modern Renaissance Man Defying Formulaic Art
Step into the kaleidoscopic world of Dirk Marwig, a German-born polymath whose art is an electrifying dance between reason and unreason. Beyond painting, Dirk is a creator of objects, furniture, and jewelry—a true "Master of Many." His work evades the monotony of repetition, instead thriving on risk, novelty, and instinctive creativity. With each piece, Dirk challenges the status quo and keeps both himself and the audience in a state of refreshing, childlike wonder. From handcrafted perfection to mathematical intricacy, his work is a treasure trove that continuously astounds and baffles.
🎨 Raymond Chow: From Teen Prodigy to Global Icon
Discover the artist who captivated art dealers as a teenager and whose work now graces international collections—counting Clint Eastwood and Indira Gandhi among its admirers. With over 50 years in the art world, Raymond Chow has exhibited alongside legends and remains a passionate advocate for the Arts in both BC and Nova Scotia.
🎨 William Liao: A Tapestry of Cultures, Mediums, and Passions
Embark on a visual journey with William Liao, an artist whose life and work are as diverse as they are profound. Born in post-Cultural Revolution Beijing and initially dreaming of fashion design, William later immersed himself in China's digital art world. A move to Canada prompted a return to traditional painting, where he delves into themes as varied as his life experiences. From portraits and landscapes to abstracts, his art mirrors his evolving understanding of life itself. For William, the canvas is just one stage in a lifelong performance that also celebrates music, literature, and sports.
Battle of the Brush 42: Super Villains - September 29, 2023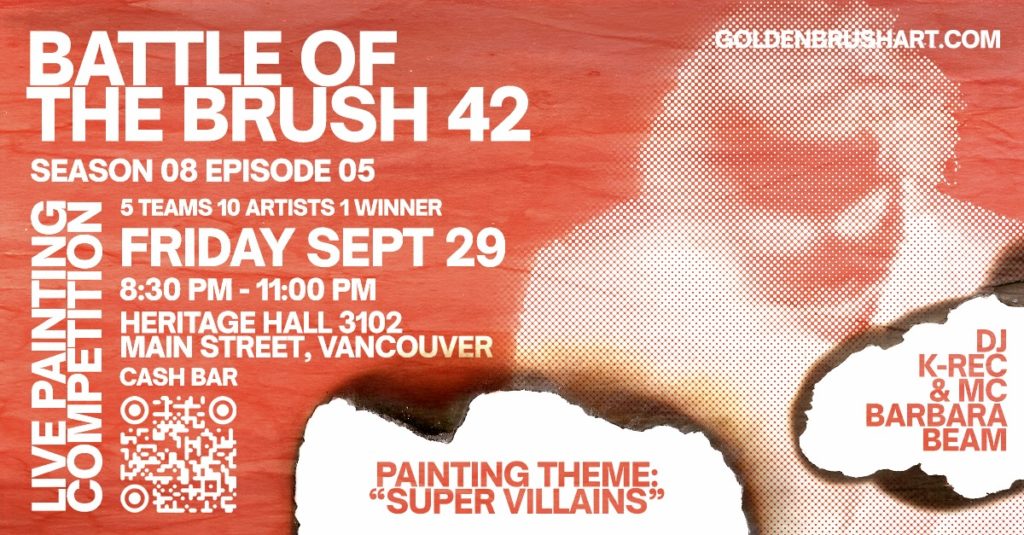 🎨 Battle of the Brush: Where Artistic Titans Clash for the Golden Brush Title!
Prepare for an adrenaline-pumping art extravaganza like you've never seen before! Teams of talented artists race against the clock, their brushes blazing, to create spontaneous masterpieces right before your eyes. Will they harmonize or collide? Either way, the canvas is their battlefield.
🕒 How It Works: Artists join forces in teams, their brushes dueling and dancing in a riveting quest for the coveted Golden Brush title.
🎨 The Spectacle: Witness live art in the making as each brushstroke adds a new twist, turning the event space into an instant gallery.
🗳️ Your Role: YOU get to be the judge! Marvel at the one-of-a-kind artworks and cast your vote to decide who takes home the glory.
Don't miss this electric blend of art, competition, and community. Click now to secure your front-row seat to the ultimate creative showdown!
Kevin did such a good job framing a vintage nautical chart. I couldn't be happier and it looks wonderful. He's very knowledgable, professional and a super nice guy. Thank you!
Best framing spot around. Great selection and very good pricing!
Very satisfied. Excellent framing service, quick turn around and excellent customer service. Canvas looks perfect. Highly recommend.
Kevan was super friendly and fun to chat with, prices are stellar and the art on the walls are cool to look at! 4 stars for now as I haven't received my frame back yet but top notch for customer service!
Thanks Kevan, for all the work you have done for the frames. They are lovely and it was amazing working with you. Very Satisfied.
Kevan has done amazing framing work for me in the past. I have referred friends to him and they are quite happy with his quick turnaround and great work. Make sure you stop by his Art Gallery or check out his Battle of the Brushes Events!
Great collection! Owner was super friendly and well knowledged with the art pieces. Definitely would recommend anyone to check this out
Capulet Art is a wonderful space with original art works and now with a music lounge.
Go nowhere else for Framing.. terrific work and very reasonable pricing
Awesome service, super cool art!!
Amazing customer experience and breathtaking work , it is an amazing atmosphere and prices are stellar
Excellent service and prices!
Cool gallery showcasing local and international contemporary artists
Get Started on Your Art Journey Today